These KN95 Masks Only Cost $1.38 and Delivered Within Days
If you've been shopping for personal protective equipment (PPE) face masks, you know high prices and inventory shortages factor in what you can buy. Mask types vary in their protection level, comfort, and cost. Amidst the general market confusion, family-owned and Coronado-based Flige has emerged with personal protection equipment (PPE) inventory in stock at the best prices we've seen, including the KN95 mask for only $1.38 each.
What's The Difference Between N95 and KN95 Masks?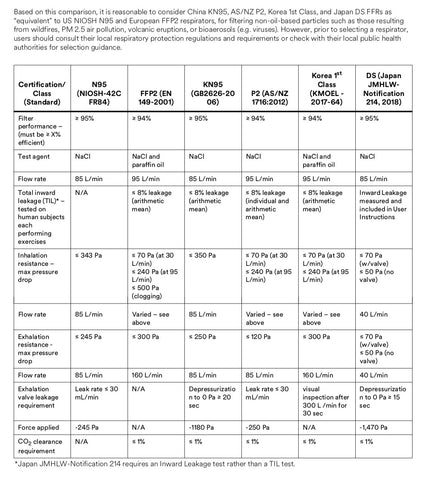 Mask Types Chart. Source: 3M
According to both healthcare manufacturer 3M and the Centers for Disease Control and Prevention (CDC), only KN95 masks are required to pass fit tests, while N95 masks have slightly stronger breathability standards. Much like the N95, the KN95 can filter 95% of non-oily particles larger than 0.3 microns, offering superior protection over the rectangular paper masks that seem to be popping up at many dollar stores nationwide.  While KN95 masks are technically disposable per CDC guidelines, for normal personal use outside of the healthcare community, you may be able to stretch a mask beyond a couple of days — especially if you're just using it for strolls around the neighborhood or quick grocery store runs.
What Does KN95 disposable face mask make of?
The KN95 masks are made with four to five layers of non-woven, breathable fabric. The masks are skin-friendly and soft and appropriate to use as dust masks. They have elastic ear loops so they'll stay in place, unlike many cloth masks that have two sets of ties that can easily come undone.
The most significant difference between KN95 masks and disposable 3-ply masks is the dual protection with KN95 masks. Three-ply disposable surgical style masks protect other people from the person wearing the mask because anything the mask-wearer exhales, through nose or mouth, has to pass through the 3-ply filters. The 3-ply masks, however, don't have airtight seals around the edges to protect the wearer from inhaling airborne particles expelled by other people. You wear a KN95 mask to protect yourself and others, not just people who move close to you or walk through spaces you just left.
You can use KN95 masks to protect against air pollutants, pollen, allergens, and dust particles, but they are not recommended for toxic environments. These masks are perfect for trips to the grocery store or pharmacy, walking outside, and running on errands around town.
How to Clean & Disinfect KN95 Face Masks?
Proper disinfection and decontamination of KN95 face masks is tricky business. You need to inactivate the virus without compromising the filtration and fit of the mask.
KN95 face masks are usually replaced after each use when plenty of supplies are available. Unfortunately, there is a very limited supply of KN95 masks due to the pandemic.
You also shouldn't wash the masks, which are intended to be disposable.
Where to buy masks online and get them delivered within days?
According to Flige, the company has a significant inventory of KN95masks in stock. However, it's a good idea to order sooner rather than later in case demand outstrips supply.
Flige' KN95 mask is an affordable alternative for casual use to more expensive and harder to find certified KN95 masks. Flige's KN95 face masks have FDA and CE certifications. They give you better protection than square cloth masks or 3-ply surgical disposable masks. On sale in lots of 10, 20, 100, 900 or more masks for as low as 1.38$. KN95 face masks are in stock and ship in 24 hours. It will be delivered via USPS with 7 business days in United States.
Buy Limited KN95 Face Mask 50% Off Here. 


KN95 Masks (10 Pcs) 41.98$ with a 50% discount. Discounted Prices: 20.99$
KN95 Masks (20 Pcs) 82.8$ with a 55% discount. Discounted Prices: 36.99$
KN95 Masks (100 Pcs) 429.9$ with a 60% discount. Discounted Prices: 171.96$ 
KN95 Masks (900 Pcs) 4600$ with a 70% discount. Discounted Prices: 1380$
KN95 Face Masks Filtration GB2626-2006 Standard 5-Ply Personal Protection Mask